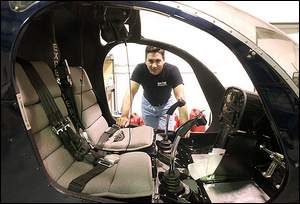 Franciso Guerra shows a Rotaway 162F Executive helicopter, from an experimental kit, at his Anderson business Tuesday. A new club is helping local inventors turn ideas into marketbale products.
MATT McKEAN/TimesDaily
When Barbara Young walked into Northwest-Shoals Community College in March, she had an idea spinning in her head and a drawing clutched in her hand.

Now, that idea, a specialized massage machine, is in the process of becoming a three-dimensional model that Young said she'll pitch to Brookstone and Sharper Image.

The catalyst for turning Young's paper sketch into a marketable product is the Alabama Inventors Club, a 4-month-old group headed by Francisco Guerra.

Guerra, who has a number of inventions to his name, said he set up the club to provide "information I wish people had told me when I started."

The club serves as a resource for learning about patents and developing marketing strategies. It also offers an opportunity for networking.

"There's no club like us that exists in the state of Alabama," Guerra said.

Guerra, a former magician and lawyer, is the owner of Snow Masters, an Anderson-based company whose artificial snow appears at amusement parks and in movies.

Guerra said that because of his widespread success – he's appeared in both Time and Fortune magazines – people were always knocking on his door and asking for advice.

"Instead of being constantly swayed away from my work, I decided to give up a Saturday of every month," he said.

Mike Hubka, a drafting design teacher at Northwest-Shoals, said club members do not necessarily discuss their ideas but rather how to run with them.

"A lot of people come in with an idea but don't know what to do with it," said Hubka, who helps run the meetings. "We can help them with that."

Ted Kennemer already had several ideas when he attended the first Inventors Club meeting. But now, he said, he writes all his ideas down.

He said ever since Guerra suggested keeping a dated log of ideas, he's been writing entries in a notebook every night.

"Fran's a great influencer," Kennemer said. "He's a friend, and he's easy to talk to."

One of Kennemer's projects is making birdhouses out of old barn lumber, most of which dates back to the Civil War.

Kennemer said he sold his birdhouses locally for $25 but Guerra is helping him find new marketing venues, such as the Internet.

While some people come to the meetings hoping to make their ideas a reality, others are simply curious, Guerra said.

The group has about 10 regular members but has seen new faces at every meeting, said Guerra.

Based on the growth of his first inventors club in Miami -- membership swelled to 700 in 10 years – Guerra said he expects his new club to peak at 300 or 400 members.

The meetings usually springboard off a guest speaker, who addresses one aspect of the industry, such as packaging, marketing or licensing.

Glen Stevens, co-owner of Assembled Products manufacturing company, spoke to the group in June and immediately decided he wanted to get more involved.

"There's so much potential here in north Alabama," Stevens said.

"I told the group that there's no reason why this shouldn't be the inventing capital of the country," he said.

Stevens specializes in product development and manufacturing. When he lived in Memphis, he participated in another inventor's group.

"You've got a lot more involvement from community members (in the Shoals)," he said. "Here, we have a group of people who aren't looking for handouts but are trying to see how they can do things for themselves."

Because the club is still too young to have "success stories," Guerra said he often uses personal examples.

He added, however, that as more members gain experience in developing and marketing their products, they, too, will share their knowledge with the group.

Young is probably the member closest to reaching that stage, Guerra said.

Her massage machine idea surfaced about a year ago when she started using a walking cane to massage her upper body.

Young said Guerra has been helping her with the logistics of turning her idea into a finished product.

"There's so many little things Fran tells us to do," Young said. "He's there as a support system, helping us get in touch with patent lawyers and people we can trust."

Guerra, however, emphasized the purpose of the club is not to directly file patents or market products for its members but to assist them in taking the next step. Everything, he said, is done in confidence.

"This club's designed for the average person," he said. "Not for the attorney, not for the guy who invents for a living, just for a guy with an idea."